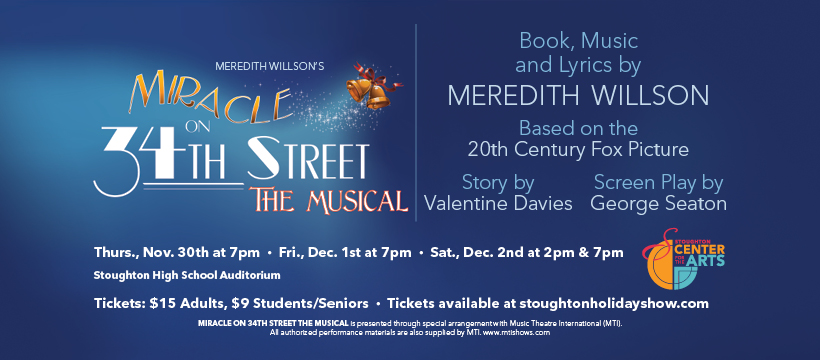 Do you believe in Santa Claus?
"Miracle on 34th Street The Musical" proves that Christmas isn't just for the children. With music by Meredith Willson, best known for "The Music Man" and less known for having two L's in his last name, this holiday musical is full of humor, spectacle, and beloved songs.
Stoughton Center for the Arts continues the tradition of providing quality, family holiday entertainment with a weekend of live performances. Past productions include "A Christmas Story, The Musical" and "Rudolph the Red-Nosed Reindeer". Stoughton Center for the Arts is proud to be a part of the many activities taking place during Stoughton's Victorian Holiday Weekend.
Performances
Thursday November 30, 2023 at 7pm
Friday December 1, 2023 at 7pm
Saturday December 2, 2023 at 2pm & 7pm
Stoughton High School Auditorium
Tickets are $15/Adults, $9 Students/Seniors
Reserved Seating
Tickets go on sale November 3, 2023